Third NEHT Workshop 2022
Environmental Histories of the Ottoman and post-Ottoman World
The Anthropocene: From Empire to Nation-States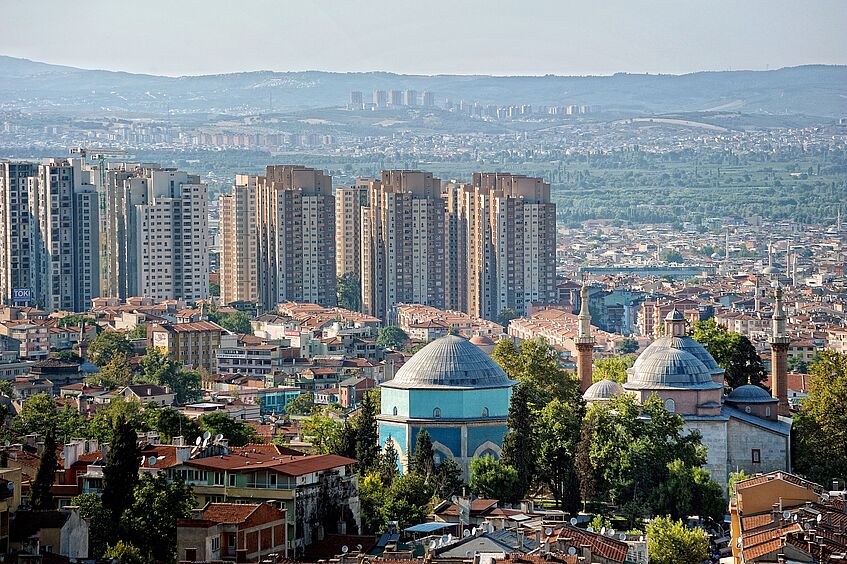 Workshop
University of Vienna
8-10 September 2022
Keynote:
John McNeill (Georgetown University)
Building the Anthropocene:
A Global Environmental History of Industrialization, 1780—1920
Environmental history is a growing field of study for scholars of the Ottoman Empire and nation-states in the post-Ottoman territories, especially Turkey. Over the past decade, environmental history has emerged as one of the most significant sub-fields of Ottoman-Turkish history. After successful meetings in Hamburg (2017) and Ankara (2019), we are happy to announce that the 3rd Network for the Study of Environmental History of Turkey (NEHT) Workshop will take place in Vienna in 2021.
The workshop, organised by the Professor of Turkish Studies at the University of Vienna, will bring together scholars of Ottoman and post-Ottoman environmental history, whose research interests converge around the concept of the Anthropocene. Under the overarching theme The Anthropocene: From Empire to Nation-States, the 3rd NEHT workshop will discuss the ways of integrating the concept of the Anthropocene into the field of Ottoman/post-Ottoman environmental history. It will open a space for analysing the role of human activities in transforming the Ottoman/post-Ottoman landscapes in the age of the Anthropocene.
The major aim of the 3rd NEHT workshop is to provide an international and interdisciplinary forum; and therefore, it is open to a wide range of disciplines, fields, approaches, subjects, and methodologies.
Program
8 September 2022
15:00-16:00 Registration
16:00 Opening and Welcome
Eva Horn (Vienna Anthropocene Network, University of Vienna), Onur İnal (University of Vienna), Yavuz Köse (University of Vienna)
16:15-17:00 Keynote
John McNeill (Georgetown University)
Building the Anthropocene: A Global Environmental History of Industrialization, 1780—1920
18:00 Welcome Reception


9 September 2022
09:00-09:30
Poster Session
Mustafa Emir Küçük (Boğaziçi University)
Urban Parks in Late Ottoman Istanbul
Alperen Arslan (Central European University)
Measuring Empire: The Emergence of Climate Science in the Ottoman Empire
09:30-11:00
Panel 1: Imperial Policies and Local Practices
Chair: Zozan Pehlivan (University of Minnesota)
Thomas Kuehn (Simon Fraser University)
Local Environmental Knowledge in the Service of Imperial Rule: The Case of Ottoman Yemen, 1872-1914
Elçin Arabacı (Independent Researcher)
Dispossession, Violence and Usurpation of the Commons in the late Ottoman Empire
Önder Eren Akgül (Georgetown University)
Analyzing the 1908 Aydın Deâvî Register: Criminalization of Customary Forest Usage in the Western Anatolian Mountains
Elizabeth Williams (University of Massachusetts Lowell)
Environment Challenges and Rural Administration in the late Ottoman Eastern Mediterranean
11:30-13:00
Panel 2: Alternative Sources, New Perspectives
Chair: Mehmet Kuru (Sabancı University)
Selçuk Dursun (METU, Turkey) and Eyüp Özveren (METU)
Yaşar Kemal as a Universal 'Southern' Environmental Historian: A Reassessment in the Light of Lessons Drawn from a Comparison with William Faulkner
Zeynep Akçakaya (Independent Researcher)
Mapping Agricultural Production in Bursa in the Mid-19th Century
Semih Çelik (University of Exeter)
An Ottoman Agricultural Enlightenment? Reform and Production in District of Biga (1830-1860)
Özlem Sert (Hacettepe University)
Water The Transparent Actor in Sugar Production; Climate Variability, Cash Crops, Mills and the Industry
13:00-14:30 Lunch Break
14:30-16:00
Panel 3: Technologies and Infrastructures
Chair: Onur İnal (University of Vienna)
Hümeyra Bostan-Berber (Marmara University)
Environmental Challenges to the Construction of the Bosphorus Forts
Ecem Doygun (Yıldız Technical University)
From Empire to Nation-State: The Transformation of the Urban Water System between 1880-1950
Nurçin İleri (Humboldt University, Germany)
An Environmental Undertaking of Istanbul's Electrical Grid from Empire to Nation-State
Deniz Armağan Akto (Bilkent University)
Coping with the River: Nature, Empire, and the Making of the Early Modern Ottoman Danube
16:30-18:00
Panel 4: Istanbul and the Environment
Chair: Brett Wilson (Central European University)
Ayşe Nur Akdal (Boğaziçi University)
Rethinking the Urban-Rural Linkages: Change in Fresh Food Supply Patterns of Istanbul since the Late Nineteenth Century
Zuhal İbidan (Boğaziçi University)
Three Big Fires in Istanbul in the Nineteenth Century and Their Role in Urban Development of Istanbul
Berin Golonu (University at Buffalo)
The aesthetic lineage of the pastoral and its recreation as simulacra in the Ottoman public gardens of the late nineteenth century
Mehmet Kentel (Istanbul Research Institute)
Champs des Morts, Jardins des Vivants?: An Environmental History of Pera's Cemeteries in the Nineteenth Century
19:00 Welcome Dinner


10 September 2022
09:00-10:30
Panel 5: The Levantine Coast
Chair: Yavuz Köse (University of Vienna)
Dotan Halevy (Columbia University)
Settling Sands: The Ecological Alienation of Native Rights in Coastal Dunes
On Barak (Tel Aviv University)
The Discovery of the Levantine Beach
Or Aleksandrowicz (Israel Institute of Technology)
From Stone to Sand: The Role of Local Raw Materials in the Modernized Building of Palestine's Coastal Areas
Mona Bieling (Graduate Institute of International and Development Studies Geneva)
Development from Shore to Shore: Palestine Potash Ltd.'s Impact on the Palestinian Landscape, 1930-1948
11:00-12:30
Panel 6: Human-Animal Encounters
Chair: Jeanine Dağyeli (University of Vienna)
S. Doğan Karakelle (Max Planck Institute for the History of Science)
Animal-Human Languages and the Anthropocene: Interspecies Communication and the Making of the Imperial Ecosystems in Early-Modern Ottoman Books on Animals
Yonca Köksal Özyaşar (Koç University) and Can Nacar (Koç University)
Epidemics and Epizootics in the Late Ottoman Empire: Livestock Trade from Anatolia to Istanbul
Deniz Dölek Sever (Zonguldak Bülent Ecevit University)
A Legal Overview of Animal-Human Relations: Regulations on Animal Theft in the Late Ottoman Empire
12:30-14:00 Lunch Break
14:00-15:30
Panel 7: Environmental Anxieties
Chair: Faisal Husain (Pennsylvania State University)
Andras Vadas (Eötvös Loránd University)
The Ottoman-Habsburg Wars and Forests in the Carpathian Basin
Elvan Cobb (Hong Kong Baptist University)
Winter Torrents to Malignant Fevers: Environmental Anxieties along the Early Ottoman Railways
Sarah Irving (Edge Hill University)
Scientific and Popular Debates on Earthquake Science: The 1927 Jericho Earthquake
Mustafa Emre Günaydı (Iowa State University)
At the Crossroads of Disaster and Opportunity: Ecologies of Centralization in Ottoman Baghdad, 1828-1831
15:30 NEHT Meeting and Social Program
---
Third NEHT Workshop 2022 Program Committee
Eva Horn (Vienna Anthropocene Network, University of Vienna)
Onur İnal (University of Vienna)
Yavuz Köse (University of Vienna)
Zozan Pehlivan (University of Minnessota)
Semih Çelik (University of Exeter)
---
The workshop is a collaboration between the NEHT, the Department of Near Eastern Studies at the University of Vienna, the Vienna Anthropocene Network, the Austrian Research Association (ÖFG), the European Society for Environmental History (ESEH), the Centre for Environmental History (ZUG), the Environmental History Cluster Austria (EHCA) and the University of Vienna.
The 3rd NEHT workshop is certified under the Austrian Eco-Label for Green Meetings and Green Events. We aim to organize the workshop according to the criteria of this quality label. We would be pleased, if you would approve with these efforts and also support them from your side.